The Appledore Island Migration Station is committed to the long-term study of migratory birds during stopover. Through partnerships and collaborations, our study of migration expands beyond the Isles of Shoals and coastal New England.
The primary purpose of AIMS is to contribute to research on the migration and stopover ecology of Nearctic-Neotropical migrants. AIMS also provides hands-on educational opportunities for undergraduate and graduate students in the biological sciences. Since the banding station first opened in 1974, over 120,000 birds have been banded.
Since 1990, the banding operation has been led by Dr. Sara Morris, Professor of Biology and Associate Vice President for Academic Affairs at Canisius College in Buffalo, NY. Dr. Morris, her students, and other researchers have authored more than 20 peer-reviewed publications and given more than 50 presentations at ornithological conferences based on data collected in whole or in part on Appledore.
The AIMS banding station is staffed entirely by volunteers and students.
History
The bird banding station was opened in 1974 by a birding "hobbyist," Betty Phinney. Long-time bander David Holmes started banding on the island the following year and, with the exception of two years in the late 1970s, he has returned to the island every year since then. David took over as the head bander when Betty retired in 1981. 2016 marks David's 40th year of banding on Appledore.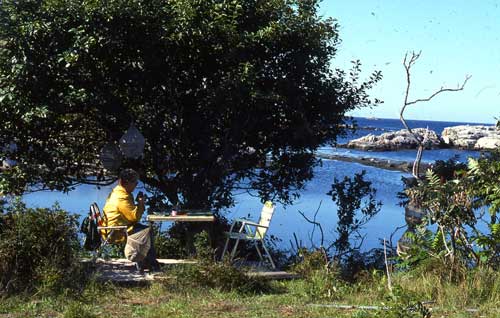 In 1987, David conducted the first Dangle, Tangle and Drudge class. The purpose of the class was to train people who were interested in volunteering but didn't have any previous mist net experience. Bander Mary Wright was a graduate of that first class.
Sara Morris first came to Appledore in 1990 when she was a graduate student in Zoology at Cornell University. Sara used data collected at Appledore for both her master's and doctoral degrees. Sara also took over as the head bander during that time, and continues as head bander today. 
Notable Captures
A Northern Waterthrush banded at Appledore was trapped and released near Caracas, Venezuela. DATES?
A Blackpoll Warbler banded in 1998 in Newfoundland was re-captured at Appledore on 5/20/1999.
A Black-and-white Warbler banded on 5/24/1999 in New Bern, NC, was re-captured at Appledore on 5/31/1999.
A Blue-headed Vireo banded on 5/09/2005 near Knott's Island, NC, was re-captured at Appledore on 5/17/2005.
A Common Yellowthroat banded at Manoment, MA, on 5/16/2005 was re-captured at Appledore on 5/18/2005.
A Magnolia Warbler banded in Fort Morgan, AL, on 10/19/2000 was re-captured at Appledore on 9/19/2004