AIMS Bird Banding
The Appledore Island Migration Station (AIMS) is located on Appledore Island in the Gulf of Maine. Each spring and fall, AIMS staff — who are all volunteers and students — band birds from dawn to dusk, seven days a week, weather permitting.
Five of the banders are NABC certified, four at the Trainer level and one at the Bander level.
AIMS observes the Bander's Code of Ethics in all its operations.
Appledore Island is also home to the Shoals Marine Lab. SML provides hands-on educational and research programs in marine science and environmental sustainability. SML hosts the banding station and its personnel during migration seasons.
Spring 2020 Banding Season Canceled
Because of the novel coronavirus pandemic, the Appledore Island Migration Station has made the difficult decision to remain closed during the spring 2020 migration season.
We encourage everyone to enjoy the spring migration in a socially responsible way.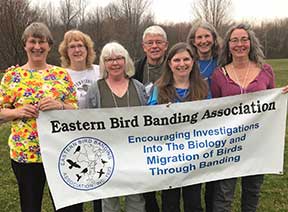 Recent News & Updates:
04/29/2019

: Banders Sara Morris and Anthony Hill will both be instructors at the National Audubon Camp in Hog Island, ME in June. Anthony will be one of the instructors for the Puffin Islands program, and both will be instructors for the Field Ornithology course.

04/12/2019

: Seven banding station staff members attended the 2019 Annual Meeting of the Eastern Bird Banding Association (EBBA), April 12-14, in Rochester, NY. Pictured above from left: Becky Suomala, Andy Thiede (First Vice President of EBBA), Sally Mack, Anthony Hill (EBBA Council Member and NABC Representative), Sara Morris, Peg Ackerson, and Rebecca Esch.

08/06/2018

: Bander Anthony Hill was one of the instructors at a hummingbird banding training session held in Elkins, WV, at the beginning of August.